---
Our Products
Company Info
Technical Support
Contact
Updated 1/5/2018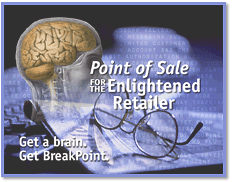 BreakPoint Systems Corporation is a world-class retail POS (Point-of-Sale) systems developer. Our family of software products are developed with MicroSoft Visual C++ to deliver the speed, flexibility, and reliability now enjoyed by thousands of retailers worldwide, from multi-lane grocery to specialty retail.

BOT Multi-Store Capabilities
The BreakPoint BOT offers controls and features for the multi-store operator that exceed all previous standards and imagination.